Tea Country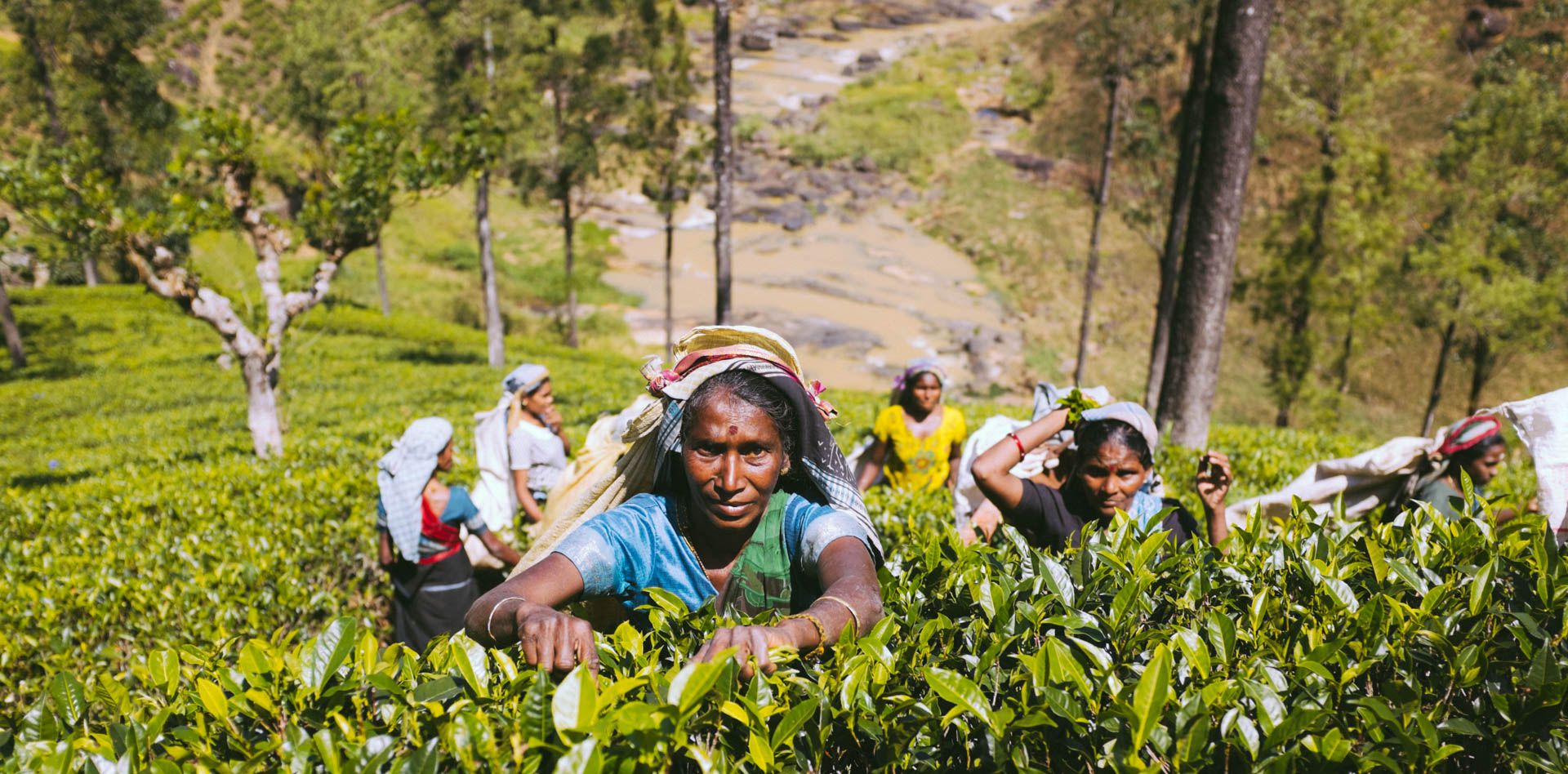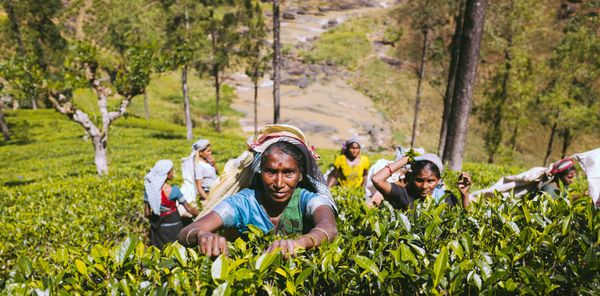 Tea. I'm not a fan — nor am I a fan of coffee for that matter. Still, it's impressive to see how a single plant brought by the British in the 19th century has shaped Sri Lanka. Hundreds of tea plantations have transformed the landscape in a green ocean of tea bushes. Today Sri Lanka is the biggest tea exporting country in the world. We spent many days hopping from stop to stop on the hill country train line between Kandy and Badulla. One of our goals was to find the women who pluck the tea and try to take some photos around the tea plantations.
After Kandy we first stopped in Nuwara Eliya (train to Nanu Oya, 160 Rs or 1.23 USD), also known as 'Little England'. The influence of the former colonizer is still very much visible in this little town. Besides the British weather — it rained when we arrived — many buildings are in British colonial style, there is a Queen Victoria park and the biggest horse race course outside England. In Nuwara Eliya we stayed at New Tour Inn (double room for 2,500 Rs, 19.23 USD) which is right next to Queen Victoria Park and close to the city center. The staff is... Interesting, but the room and the location are good.
In Nuwara Eliya we visited our first tea factory, at Pedro Tea Estate. This tea factory is close to town and easily reached by bus (one way 40 Rs, 0.31 USD). A short tour through the tea factory — including a cup of tea — costs 200 Rs per person (1.54 USD). After the tour we walked around the plantation for a bit, searching for the women who pluck the tea, but they were nowhere to be seen.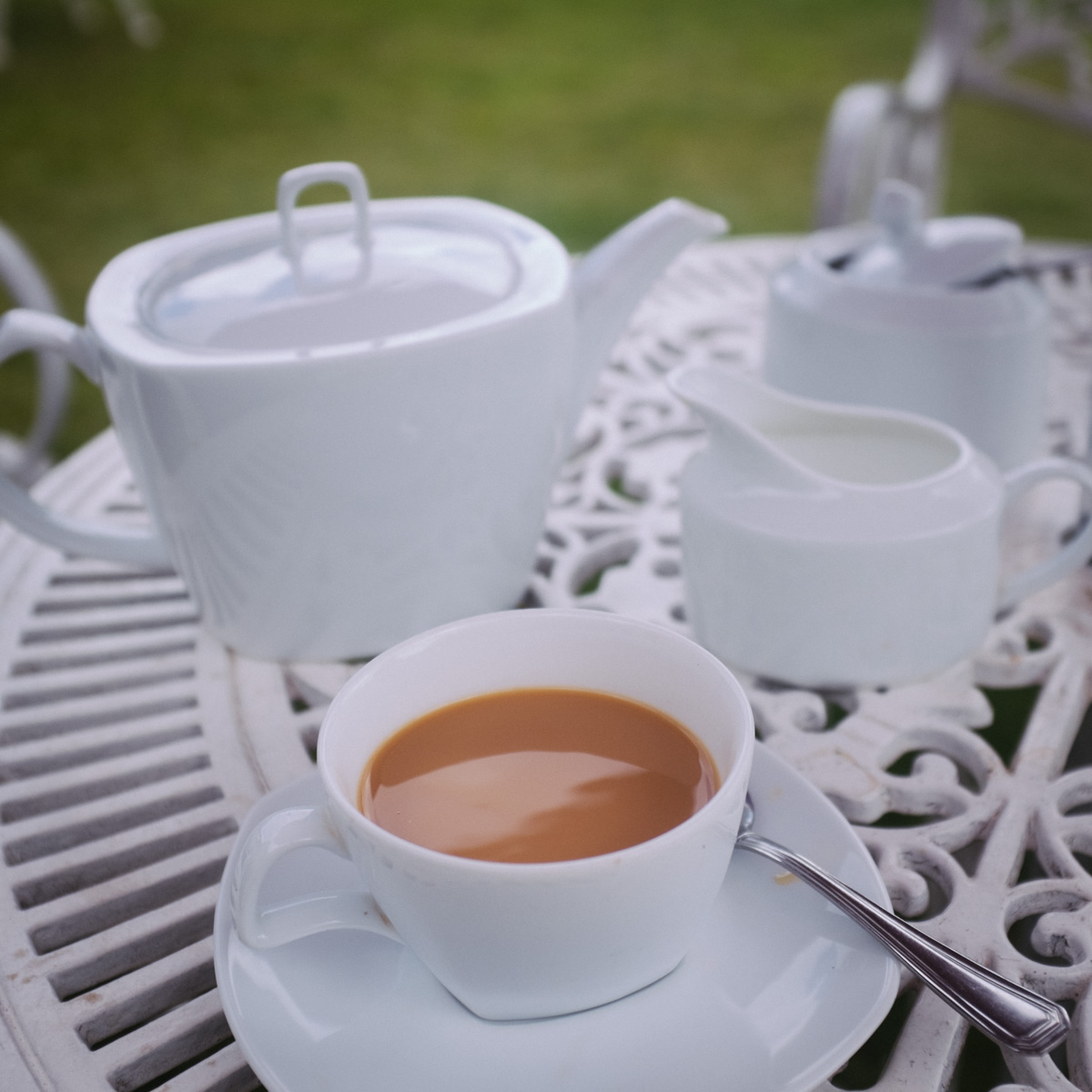 We also climbed Single Tree Hill, a short but steep hike from town. After a cup of tea at the Tea Bush hotel, where the gardener insisted on showing us around in his vegetable garden, we were pointed to the 'path' leading to the top of the hill: straight up through the tea plantation. There might be a more official path somewhere but this was undoubtedly the most direct way of climbing the hill. The view on Nuwara Eliya from the top of the hill is pretty cool.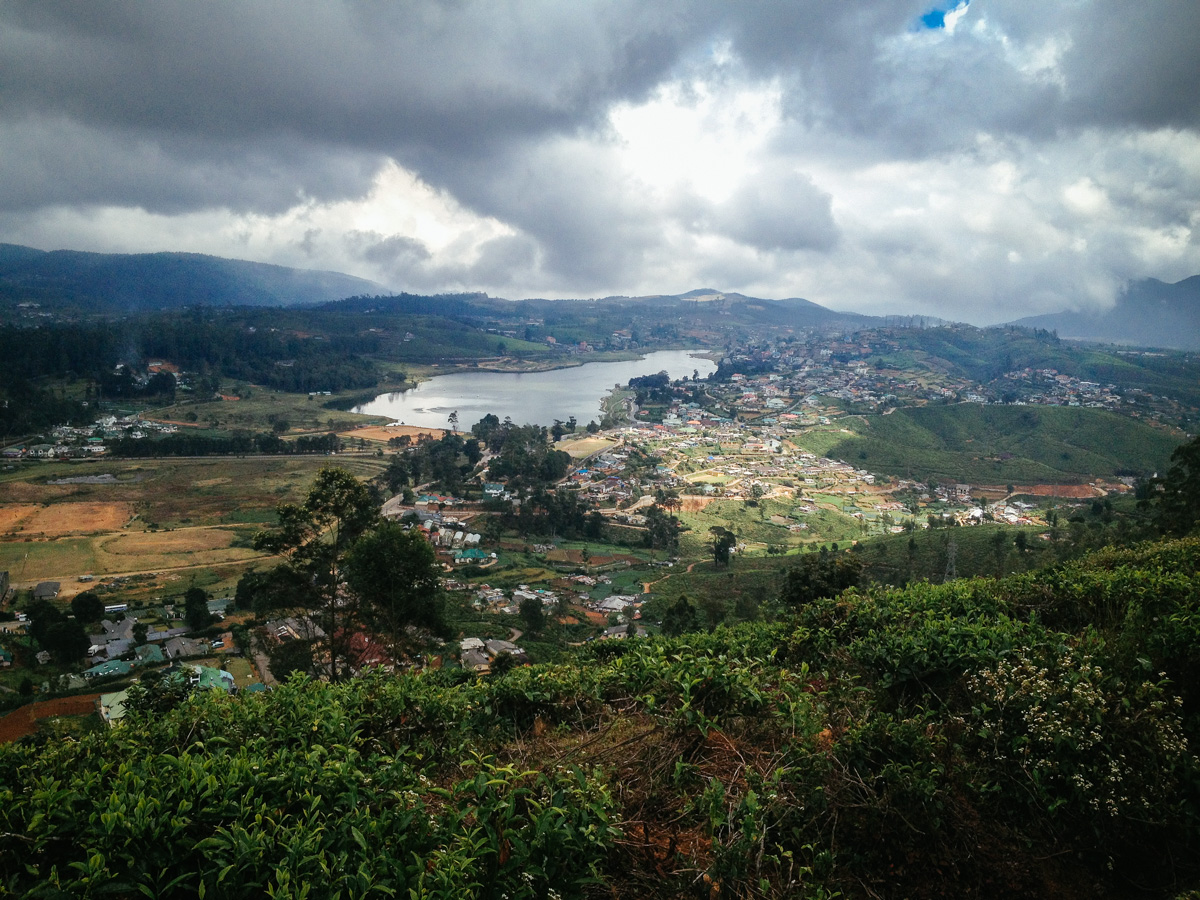 After another amazingly scenic train ride we arrived in Haputale (train 40 Rs, 0.31 USD), A small town propped on a mountain ridge. Here we stayed at Awinco Rest (double room 3,500 Rs/27 USD with amazing view, cheaper less fancy rooms available). We walked around the tea plantations in Haputale searching for tea pluckers but still no luck.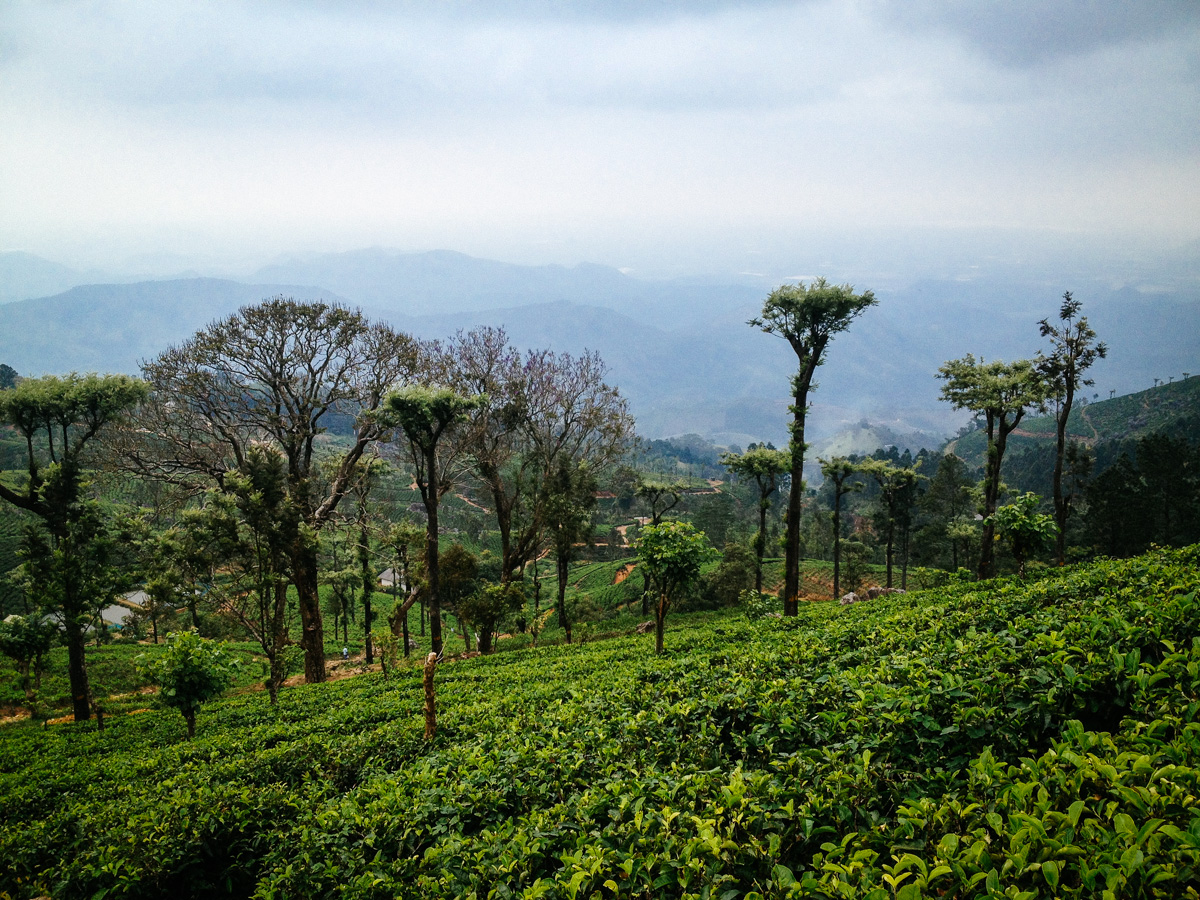 From Haputale we arranged a tuk-tuk to take us to Lipton's Seat (800 Rs/6.15 USD one way to top) to watch the sunrise. It is said that Sir Thomas Lipton himself came here often to enjoy the view. Unfortunately the sky was not very clear when we reached the top but the view was still stunning. After having breakfast on top we walked the 7 kilometers down to the Dambatenne Tea Factory, built in 1890 by Sir Thomas Lipton. We had a tour at this factory as well (250 Rs, 1.92 USD) which was more interesting than the one at Pedro in Nuwara Eliya. This factory is also much bigger.

Next stop after Haputale was Ella which — according to the internet — should be a far more interesting place to visit than Nuwara Eliya. After arriving we quickly disagreed. Ella itself is nothing more than a road with many overpriced guesthouses and expensive tourist restaurants with mediocre food. Pleasant exception was Nanda Stores, a small shop/restaurant/guesthouse on the corner of the main road and the road to the train station. The woman running this place cooked a delicious rice and curry meal for us. We ended up paying 250 Rs per person (1.92 USD) including drinks and dessert. The guesthouse we stayed at was really nice too (Aurora Bungalows, double room 3,500 Rs/27 USD). We had planned to stay in Ella for at least two nights but an hour after arriving we decided to leave the next day.
We did not know where we wanted to go so we simply reserved a train ticket all the way back to Kandy (600 Rs/4.62 USD) with the intention to get off if we would see a stop that looked interesting. After almost four hours on the train we decided to stop in Talawakele, a town in a valley surrounded by tea plantations. The town has only one hotel, View Rest, where we got a room for 1500 Rs (11.54 USD) per night.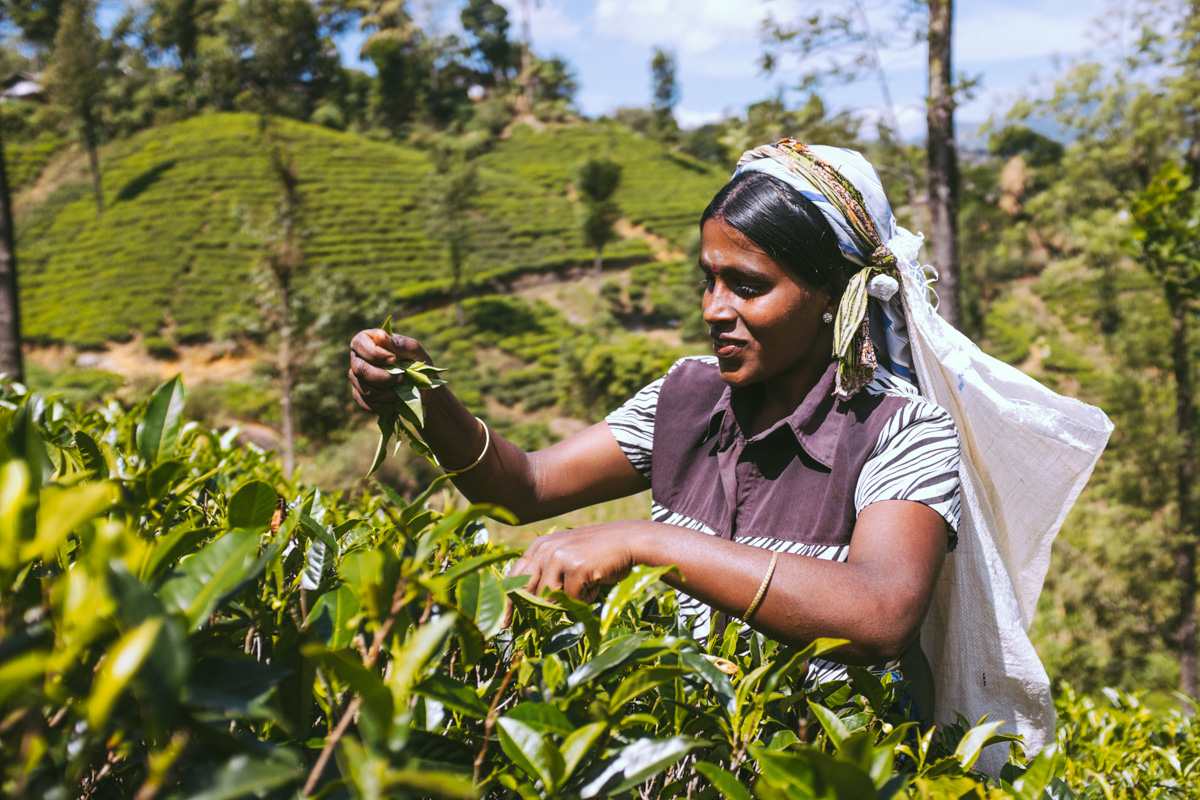 After asking the staff if they happened to know where we might find tea pluckers at work they introduced us to the superintendent of nearby St. Clair tea estate. He invited us to visit the estate to see the tea pluckers at work. The next morning we meet his assistant at the tea factory and he takes us to the fields where we wait for the tea pluckers to come back from their tea break. The assistant introduced us as the "foreigners who want to take pictures". After an attempt at some smalltalk with the assitant acting as translator he asks them to pluck tea in front of our camera. The whole situation was a bit surreal, both for us and the tea pluckers but it's awesome that they did this and allowed us to take pictures.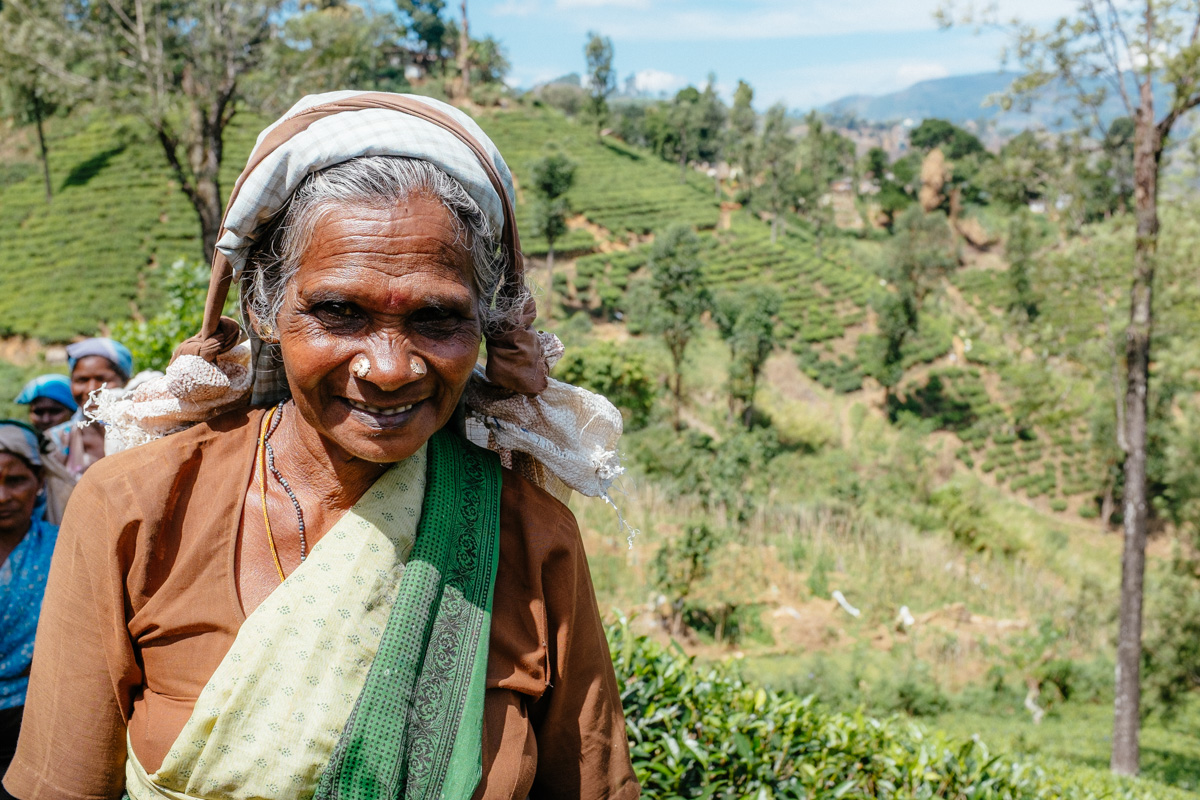 After an epic morning at St. Clair's we rushed to the train station and traveled to Hatton (30 Rs, 0.23 USD). Hatton is mostly known as the easiest station to access nearby Adam's Peak. We did not come here to climb this famous mountain but instead wanted to see more of the tea plantations in the hill country. At the station we meet Mr. Sanoon who runs a homestay in nearby Dick-Oya, right in the middle of a tea plantation. He was kind enough to drive us to the city with his blue tuk-tuk. We had an amazing time at his homestay and an epic curry meal cooked by his wife and mother-in-law. Mr. Sanoon showed us around his house and we met more tea pluckers here. We paid 3000 Rs (23 USD) for our stay including a big breakfast and the aforementioned delicious curry dinner.
With only two nights left in Sri Lanka it was time to leave the hill country and travel back to Colombo. We made one more stop in Nawalapitiya (train from Hatton 80 Rs/0.62 USD) where we stayed at the Grand Jayabima Hotel located behind the train station for 3000 Rs (23 USD). Nawalapitya was the least friendly place and the hardest to find accommodation. From Nawalapitiya we took a train to Colombo, in a reserved 3rd class carriage (400 Rs, 3 USD). Here we stayed one more night before we going to the airport and flying back to Kuala Lumpur.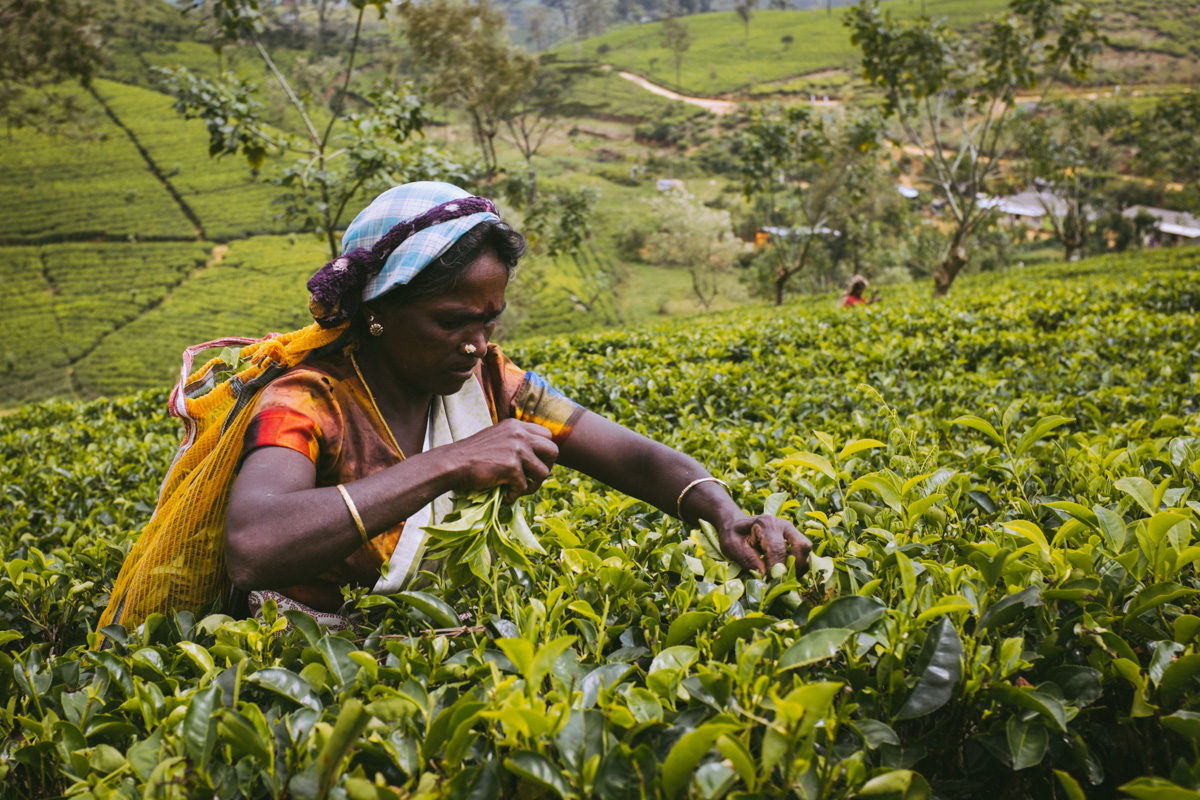 All in all we had a great time stopping at random towns and cities along the hill country train line. We might have missed out on many beautiful waterfalls, dark caves and strenuous hikes but we had an awesome alternative experience focused on tea.