Towering Marble Walls in Taroko Gorge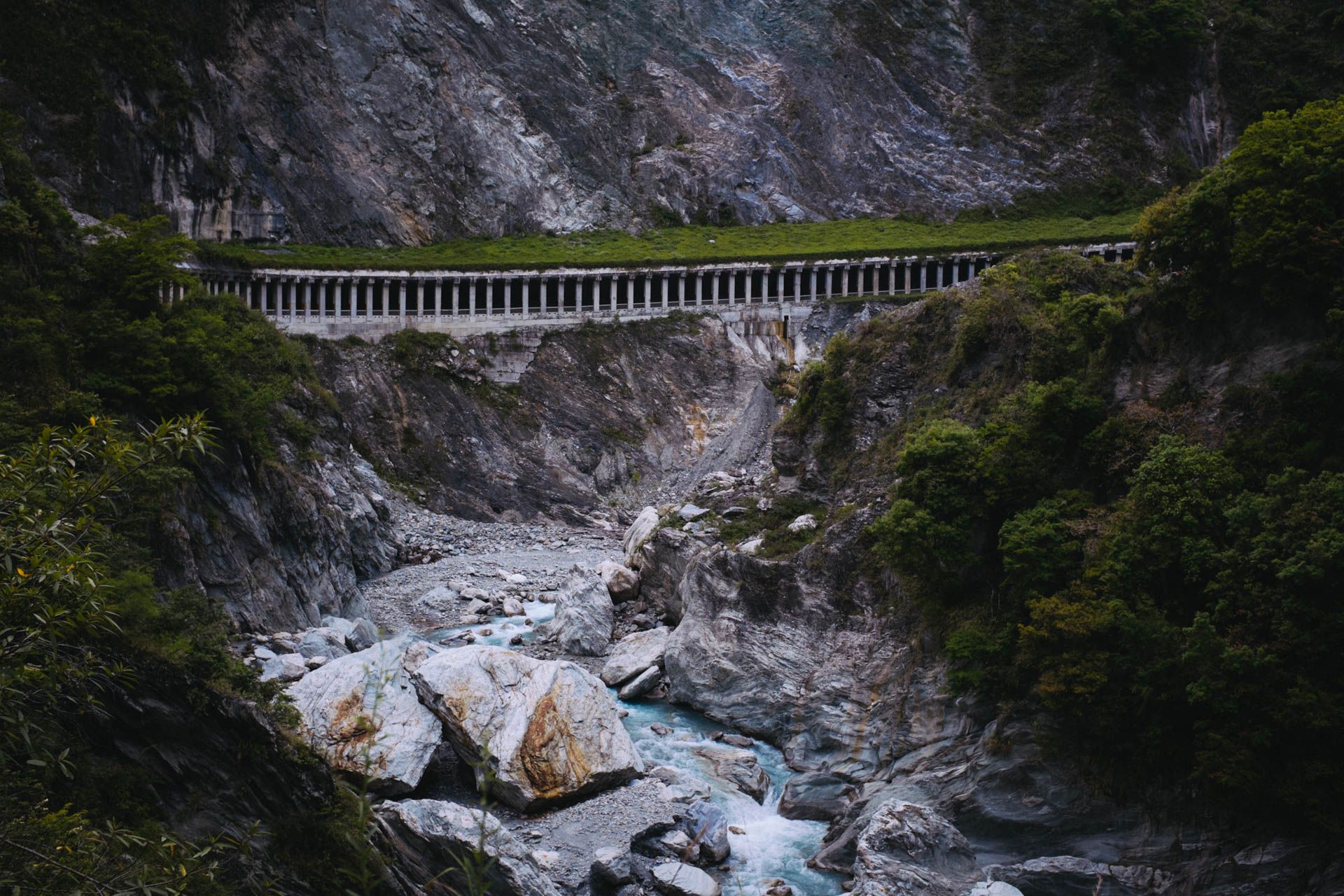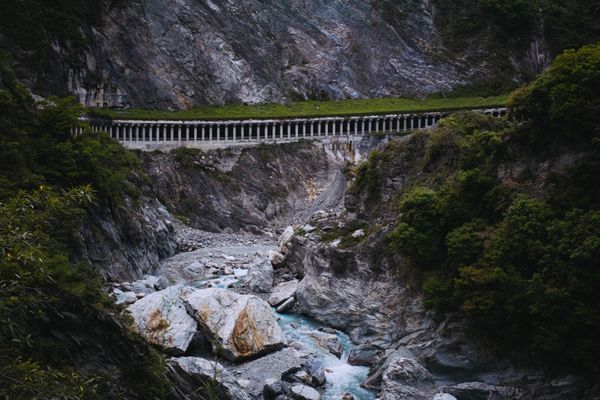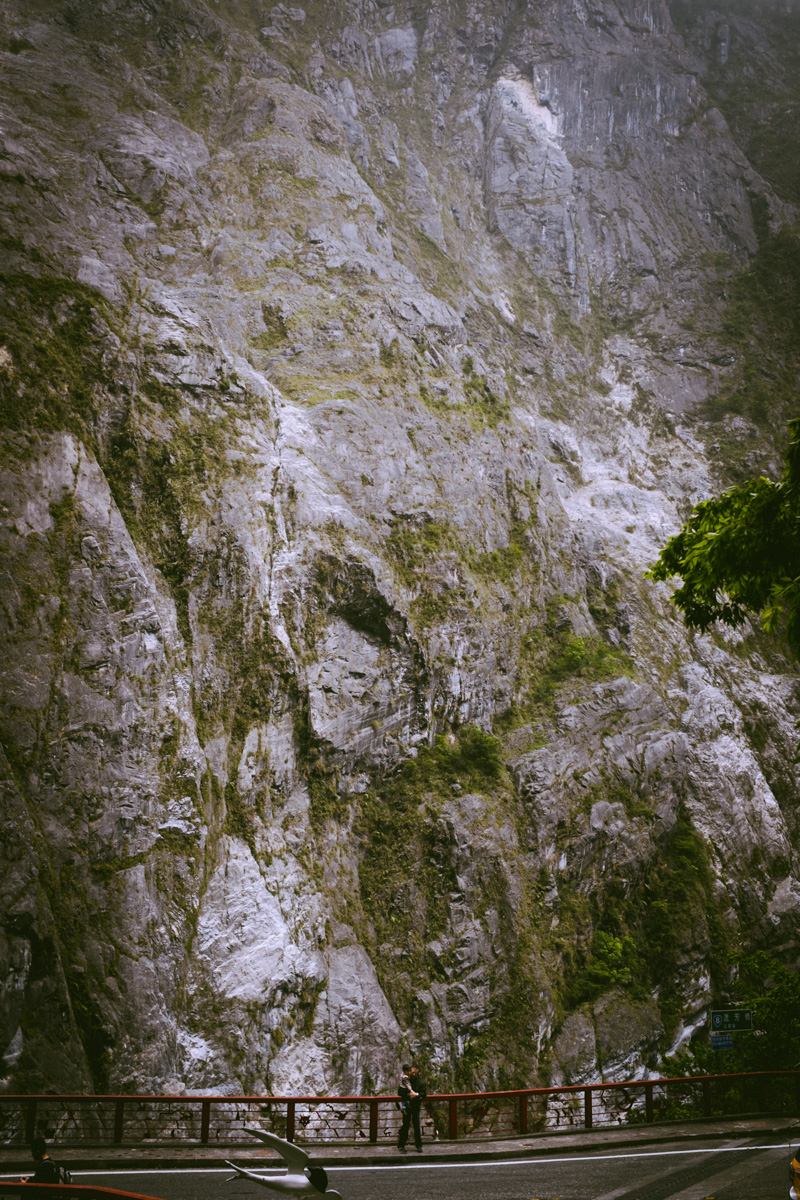 Colliding tectonic plates have contributed to the stunning scenery along Taiwan's East coast. This is where steep mountains meet the bright blue waters of the Pacific Ocean and where rivers have crafted deep gorges over the course of millions of years. The most famous of all is Taroko Gorge, where vertical walls of marble reach heights of more than a kilometer.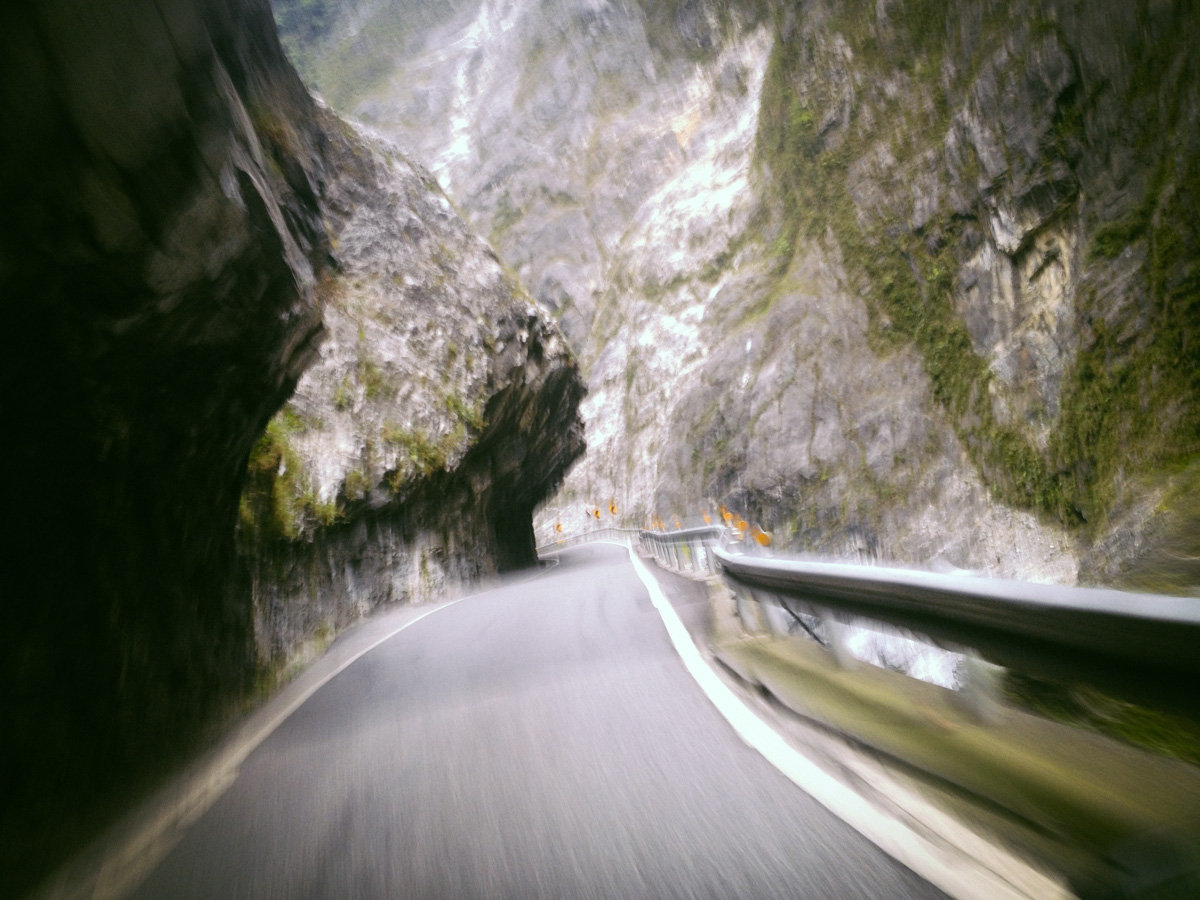 It's easy to visit Taroko, especially from Hualien, the nearest big city. In my opinion the only way to truly enjoy the magnificent scenery is by renting a scooter and drive through the gorge yourself. Many people go by bus or taxi but the view from a small window does not do justice to the greatness of the gorge. Even on this gray and rainy day I can't stop smiling while I enjoy the 360 degree views I have from my scooter. Another advantage of having your own transportation is that you can stop anywhere you want, whereas the bus will drop you at the most famous spots which are not necessarily the most interesting ones.
From Taipei there are many daily trains that stop in Hualien. I booked my ticket online and found a discounted ticket for only NT$ 200 (6.60 USD). Regular price is NT$ 440 (14.50 USD) for express trains and NT$ 340 (11.25 USD) for slower trains. In Hualien I stayed at FBO Hualien hostel, a recently opened eco-friendly hostel with great staff and really cool dorm rooms. It is also very conveniently located near the train station.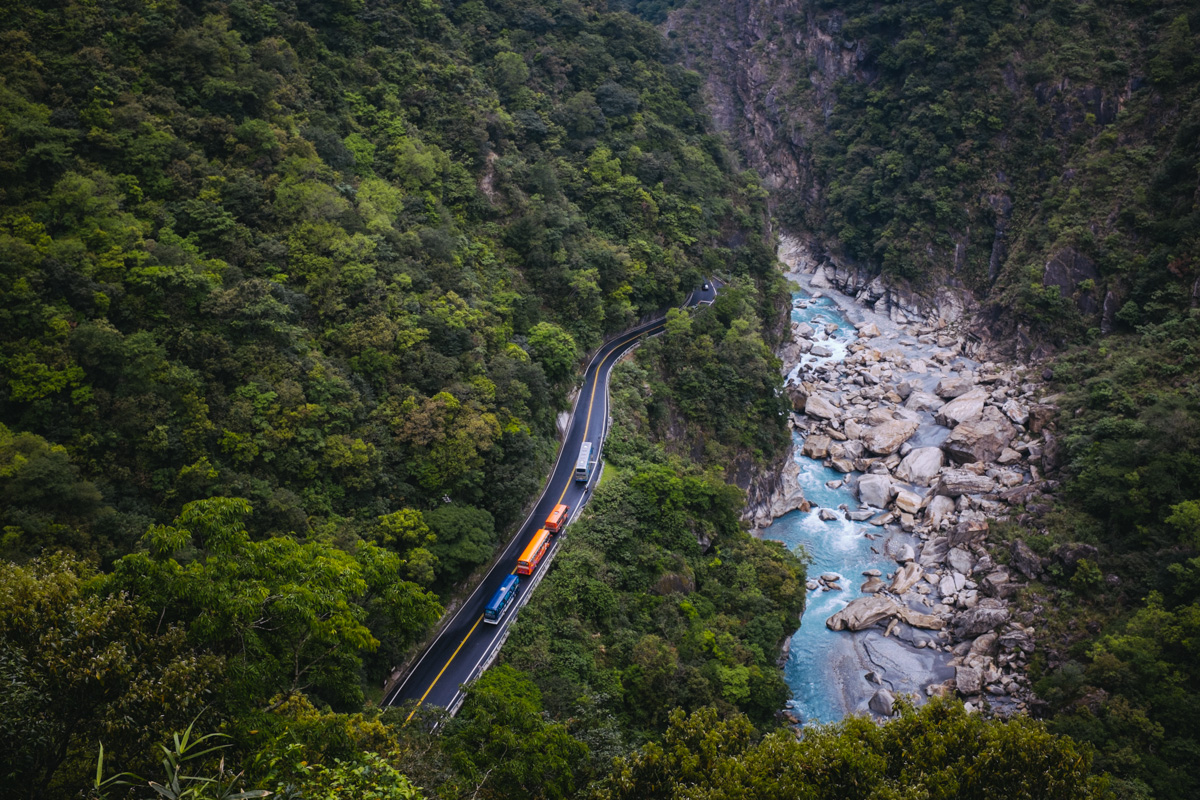 To get to Taroko Gorge I needed a scooter but not all places are keen on renting to foreigners. With help from the hostel's staff I found a 125cc scooter for NT$ 450 (15 USD) for the day, quite expensive but it was worth it. This was also the first time someone asked me for an international driving permit — a translated version of your driver's license.
From Hualien it is a 20 kilometer drive to the start of Taroko Gorge. The national park's headquarter is located here where you can find exhibitions, free maps and a restaurant with acceptable food. The road in the gorge is narrow and goes through many tunnels. Traffic on this Saturday is light and other than I've read at some places buses don't drive like maniacs. It's an awesome ride up with many opportunities to stop for the amazing views left and right.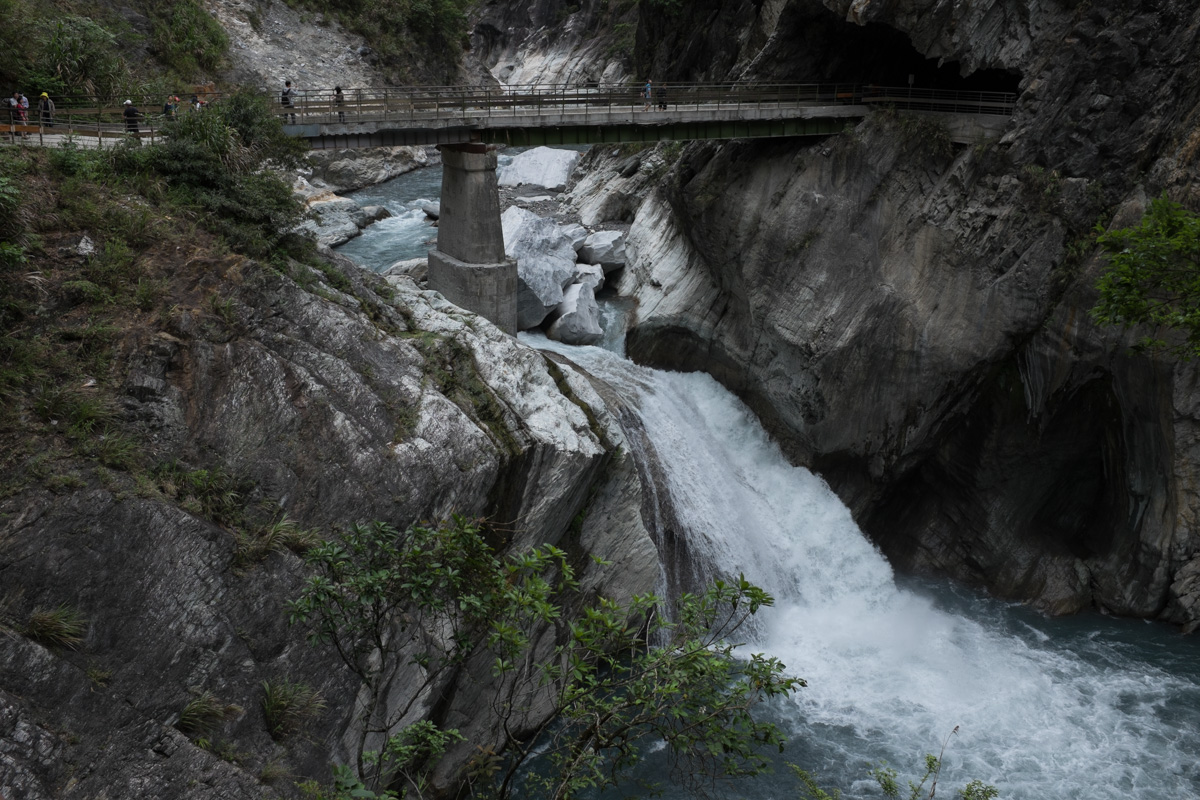 It was raining the day I visited but armed with a raincoat and cute helmet with visor I was pretty comfortable. The clouds moving through the gorge and hanging against the mountains actually made some of the surprising views even more stunning. Some of the places where I stopped that I think are worth mentioning:
The trail to the Cave of Water Curtain. Bring a flashlight and raincoat when you go here. This is an easy two kilometer walk (one way) along a trail with several tunnels. At the end of the trail you'll be rewarded with views on beautiful waterfalls and a shower in the water curtain cave.
Walk along the road where the marble walls of Jhuilu Cliff go straight up in the air for more than a kilometer.
View of the Eternal Spring Shrine. This shrine is built against a mountain and it has a river flowing through it. A spectacular sight, even from afar.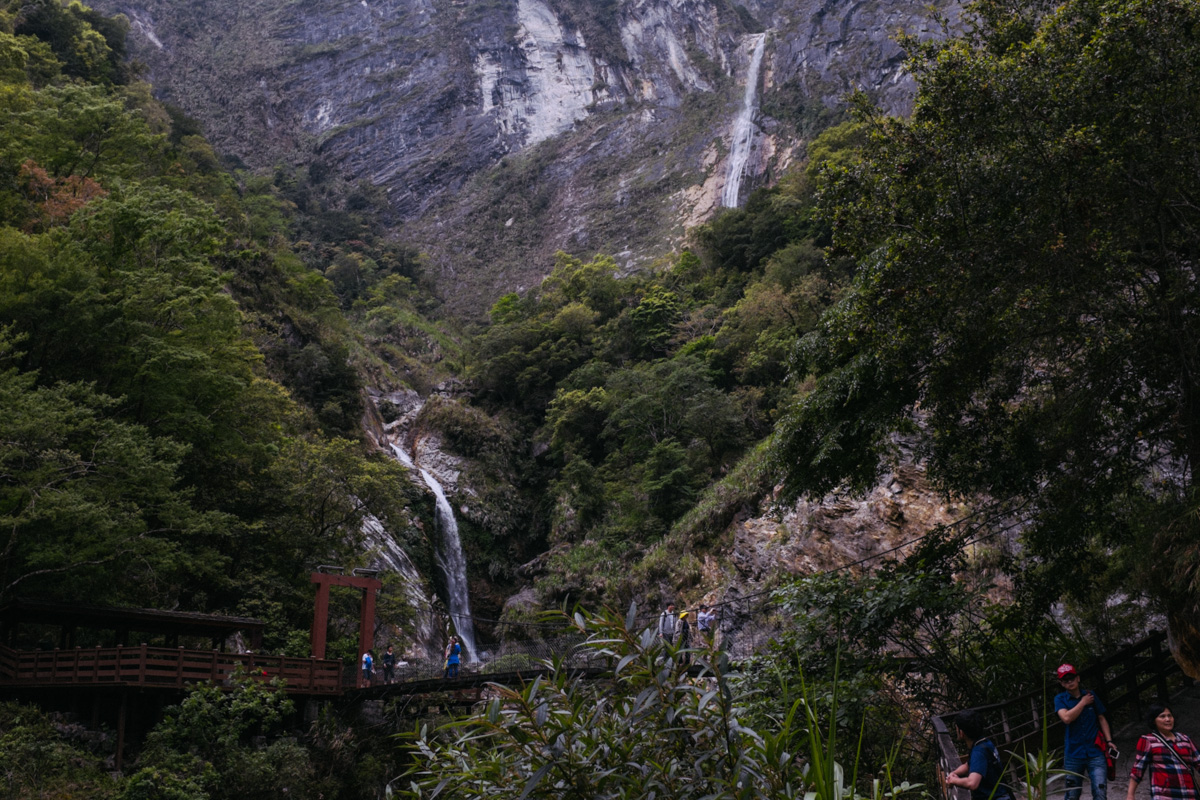 On my way down I ended up in the middle of the Taiwanese Harley Davidson club. The sound of their engines in the tunnels were impressive. I felt pretty humble with my simple scooter.
There are many hiking trails in Taroko Gorge, for some of them a (free) permit is required. I did not have the equipment nor the energy to go up one of these trails but from what I could see there are some very impressive hikes to be done here. The park is well maintained but it does suffer from the typhoons which land at Taiwan's East coast every year. Some roads and trails are inaccessible due to rock fall and landslides.