All Aboard
It's been eight months since the start of my epic journey and during this time I have visited ten countries, traveled thousands of miles and made dozens of new Facebook friends. Now I feel that the time has come to pay a visit to my friends and family before I take off again on my next adventure.
"This means you will be home soon?" Well, not quite. My current location is pleasantly chaotic Ho Chi Minh City (Saigon) in Vietnam and I have been here two weeks already. A flight from HCMC to Amsterdam would take twelve hours; if I take the next flight I can be home before dinner. "What is the fun in that?" I hear you ask. Not much, but what is the alternative? Well, one day in Laos an idea sprung up in my mind that has slowly started to grow over the past months. This idea was the question "Can I travel from here to Europe without leaving the ground?" As it turns out the answer to this question is yes, this is possible. So instead of flying, the least environmental-friendly mode of mass-transport, I am going to take one of the most environmental-friendly modes of transport: trains.
Flying is Cheating
AirAsia flight AK1916 from Kuala Lumpur, Malaysia to Chiang Mai, Thailand is the last flight I've been on and it had everything that makes flying such a great way to travel: it was cheap, fast and convenient. But flying feels a bit like cheating as you skip any obstacles by flying over them. A flight from Amsterdam to Singapore flies over the Himalayas instead of having to go through them, an airplane is not affected by the sea-sickness inducing waving motions of oceans and border crossings do not exist at altitudes of 30,000 feet. Besides, in my case fast is not necessarily a good thing; I have plenty of time, so why the hurry?
Flying also takes away one of the more interesting parts of travel, namely seeing the scenery change as you depart your current location and approach your destination. Train travel may be slower than flying but this comes with the advantage of giving you plenty of time to enjoy your surroundings. I remember gazing out of the window of trains in the Netherlands as a child and seeing cities overflow into green meadows with the occasional windmill in the background before transitioning back to an urban landscape where the next station would be awaiting our arrival. As a teenager I took the French high-speed train TGV on multiple occasions from Brussels to the beaches in the south of France, a seven hour ever-changing painting of sunflower fields and rocky hills. The stretches of the track that run parallel to highways are the best indication of the speed with which the train sprints to the next station. Cars that are driving 130 kilometers an hour appear to be standing still when the train races along the track at 300 kilometers an hour, but even at these high speeds you notice the gradual change in vegetation and temperature as you travel from a maritime climate in the Netherlands to a pleasant Mediterranean climate on the beaches of Cannes in the south of France.
Saigon to Amsterdam by Train
The distance between Amsterdam and Cannes is of course nowhere comparable to the distance between Amsterdam and Saigon, so why on earth would anyone want to travel all this way by train?
"Because I can." That is, if I manage to obtain all the necessary visas for the countries that I have to pass through. From what I can tell from my research it should be possible, but research only goes so far and my experience with visa procedures and consulates is that it takes place in a different dimension where voodoo and black magic play a big role. I'll go into further detail on obtaining visas and the exact route in future articles but I do know that I need to obtain visas for at least China, Mongolia and Russia as a large chunk of this journey will pass through these countries where I'll be traveling the Trans-Mongolian and Trans-Siberian railways.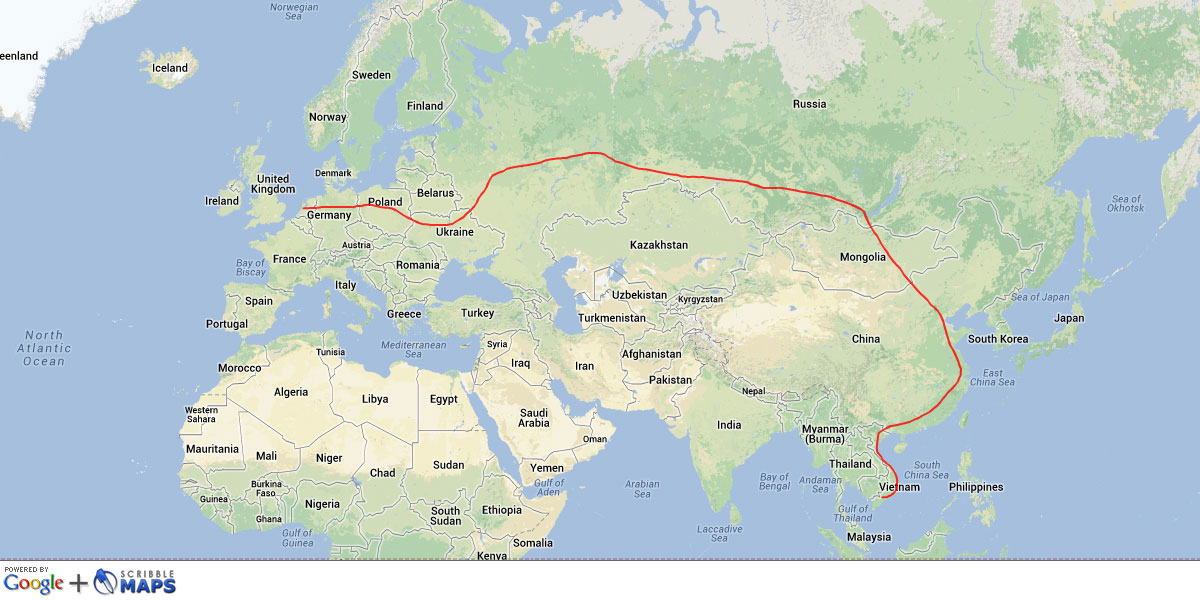 After months of not planning more than a few days ahead of time I am excited to have a try at a clearly defined project. I start tomorrow morning when I board train number SE6 headed to Hanoi. I won't go all the way to Hanoi immediately though, a journey of more than thirty hours. After 411 kilometers I will get off at the seaside town of Nha Trang to spend some lazy days at the beach.